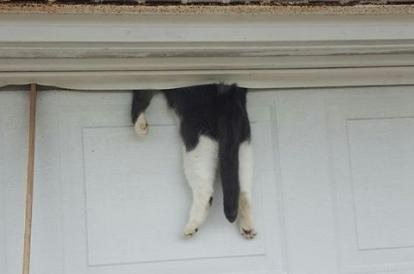 In Louisiana, Bella the cat fell asleep on the garage door when it was open. When Bella's owner drove away and lowered the garage door remotely, the door shut and trapped Bella in between the door and the molding at the drop of the garage door opening.
Fortunately some neighbors quickly noticed Bella's predicament and called for help. Deputy Mike Scott of the Ascension Parish Sheriff's Office arrived and gently pried Bella out. Bella was unhurt but probably a little bit dazed at what had just happened. Most likely in the future, Bella will avoid sleeping on the garage door.
To read more about the cat stuck in a garage door, click here.