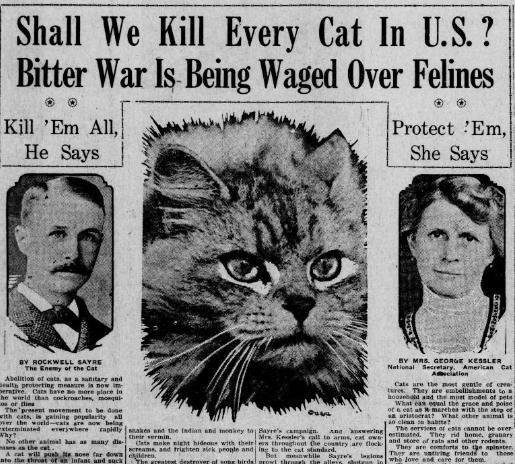 In 1921, the Bisbee Daily Review in Arizona printed an editorial where a cat-hating banker named Rockwell Sayre actually advocated killing every cat in America.
Mrs. George Kessler, the National Secretary of the American Cat Association, countered Rockwell's arguments by claiming, "Cats are the most gentle of creatures."
"Cats do not suck the breath from infants," she rebuts, "nor do they maraud the nesting places of birds as much as has been represented. The person who dislikes cats has something harsh in his nature. For cats are the essence of refinement."
Fortunately Rockwell never got his wish to eliminate every cat in America. However he did meet an untimely death in 1930 when he was shot and killed by his own son. Although history doesn't record why his son shot him, cat lovers will have no problem understanding why.
To read more about the cat-hating banker of 1921, click here.