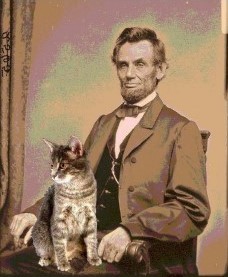 If you don't like who's in the Oval Office, you can at least take comfort that over the years, many Presidents have brought cats into the White House. President Lincoln was reportedly the first president to bring a cat to the White House but other presidents, including Bill Clinton and George W. Bush, also brought cats with them.
Perhaps of these presidents just let the cats run the country, the whole world would be better off. Of course a cat in the White House might ban and deport all the dogs in the country, so perhaps it's best that the cats avoid getting too much political power to avoid subverting the democratic process in the United States.
To see more pictures of different cats in the White House, click here.