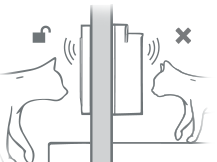 Today, we have smart homes that let you monitor doors and windows, temperature, and lights remotely using an app on a smartphone. That way you can watch your home and even unlock doors for guests remotely. Now that same concept is coming to cat doors.
A company called Sure Petcare is labelling their product as "the most advanced cat door ever." The Microchip Cat Door Connect lets you track and monitor your cat going in and out through its cat door. You an also remotely lock or unlock the cat door as well to keep other animals from getting inside the house.
If the idea of a smart home will ever become popular, it will have to include a smart cat door as well.