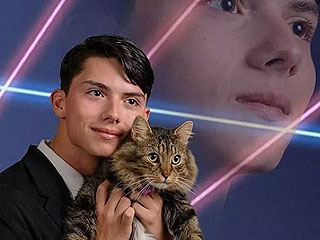 Some people are crazy about cats and some people are just plain crazy. That's why 16-year-old Draven Rodriguez from Upstate New York wants to submit his own portrait to his Schenectady High School yearbook. "I don't want to go in the yearbook with the generic 'I-look-like-everyone-else' photo," Rodriguez said. "I wanted a 'He looks great. Only he would try that' photo."
Of course, Rodriguez doesn't just want his own picture in the yearbook, but a picture of himself with his cat, Mr. Bigglesworth, which includes lasers in the background. When you look back at some  high school yearbook pictures, they look goofy over time, so there's no reason not to look goofy right from the start, especially if you can immortalize your cat at the same time.
To read more about Rodriguez's petition to get his cat in his high school yearbook, click here.