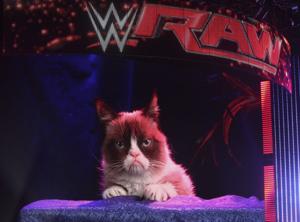 Grumpy Cat hosted WWE's "Monday Night Raw" last night as part of a publicity stunt to promote her made-for-TV movie, "Grumpy Cat's Worst Christmas Ever." As the guest host, Grumpy Cat endured some boos from the audience, but became the only animal guest host at WWE's flagship weekly program broadcast on USA Network at the Berglund Center.
WWE's mission is to put smiles on people's faces — and now we will attempt the same with Grumpy Cat," WWE Chief Brand Officer Stephanie McMahan said in a statement.
Grumpy Cat already has nearly 7 million Facebook fans, 244,000 Twitter followers and her YouTube page has received 29 million video views. The 2-year-old mixed breed cat with feline dwarfism has her own best-selling book, a beverage line and now, her own movie.
To read more about Grumpy Cat's guest host appearance, click here.